The Chalet - Photos
Everyone wants to know what their chalet will be like, so that they can have a high level of confidence when they book it. Here are some photos of the inside of Chalet Jacinthe which should give a good impression of the high standard and quality of fittings and furnishings, and an impression of the overall spaciousness of the chalet.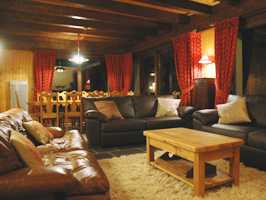 The lounge on the first floor has comfortable seating for twelve, with a dining area with a large custom designed sapin monastery table with twelve ash dining chairs so that all the chalet guests can sit comfortably around one table for pleasant sociable meals. Everyone can then retire to the leather sofas and the massive armchairs for the remainder of the evening.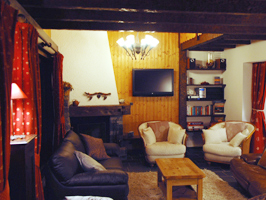 At the far end of the lounge, a large 40 inch flat screen television can comfortably be viewed when seated at the dining table. A top quality DVD player compliments the chalet satellite TV service, and a top of the range mini Hi-Fi and provides the music. The DVD player will even play MP3 files on a USB memory stick, so you can easily bring your own music in a number of formats and media types.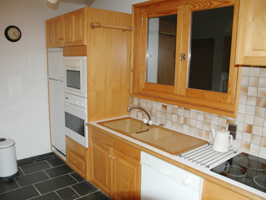 The kitchen is spacious, and fully equipped to catering standards. It has a fridge freezer, fan assisted oven, microwave, one-and-a-half sized sink, dishwasher, and a ceramic hob with overhead extractor. Kettle, Coffee filter machine, blender, and a good selection of cooking utensils, pots and pans, ... its all there.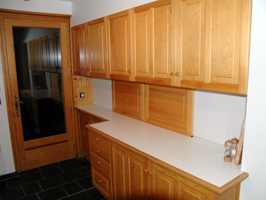 The other side of the kitchen provides generous serving space, with a convenient serving hatch to the dining area on the other side of the wall. This side also provides ample storage for table wear and cutlery. For safety, the kitchen also has a fire extinguisher and fire blanket, but we hope they are never needed !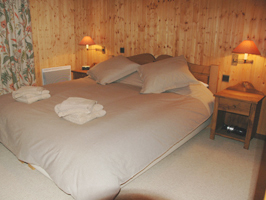 The master bedroom has a super king sized bed, built in wardrobe, flat screen TV with satellite TV and a high specification DVD player. This bedroom has its own private balcony accessed through french windows.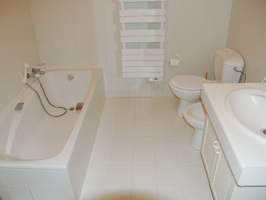 The master bedroom also has an en-suite with a luxury matt finish suite, built in vanity unit and further storage.
On the upper floor there is a spacious twin room with incredible views from its huge windows looking accross the valley floor to the Pleney slopes on the other side.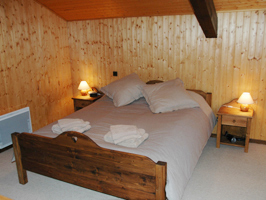 Also on the upper floor is a king sized double bedroom, and this room also has its own private balcony accessed through french windows. In addition this room also has a television with satellite TV and a high specification DVD player.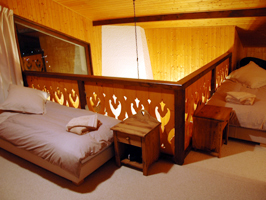 The mezzanine on the upper floor also provides a sleeping area with two single beds, often used by older children whose parents use the master bedroom on the floor below. This area also has incredible views from the huge windows, across to the Pleney slopes.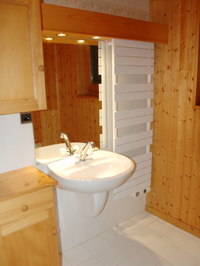 The upper floor has a spacious shower room which is shared by the upper bedrooms. With a shower cubicle, W.C., built in vanity unit and heated towel rail, there is still lots of room to spare which makes it easy if you have young kids to look after.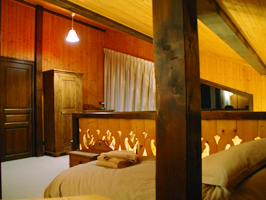 Tucked away under the lower ceilings of this side of the mezzanine, are two comfortable leather chairs. Ideal if you need a little peace to read, or just want to chill out away from the throng for a little while.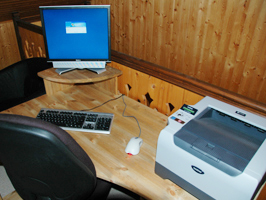 The upper floor is also home to the chalet computer with broadband service and office printer. Ideal for those guests who need to keep in touch with the world while away on holiday.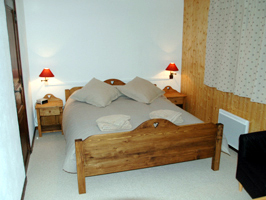 On the ground floor there is another king sized double room, which forms part of our family unit, and this room also has a television with satellite TV and a high specification DVD player.
This bedroom has an en-suite shower room with built in vanity unit, and this is usually shared with the twin bedroom next door.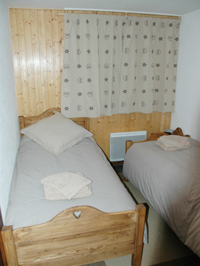 This twin bedroom forms the other half of our family unit, allowing the parents in the next door king sized room to have privacy, while staying within easy reach of their kids.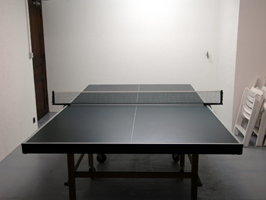 How many chalets do you know of that provide not only ski and snowboard storage in the garage, but a full sized Table Tennis table? Perfect after dinner excercise? Even more fun after a gin and tonic?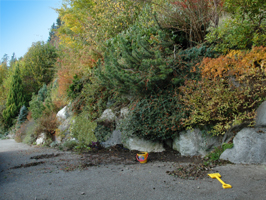 Well if you haven't given up looking at this page by now, it's time to ask .... Where are the chalet gardeners? They should be working away quite happily, tidying up the driveway rockery, on a beautiful October day. Even in Autumn the French Alps can be as warm as many a summer's day in Britain. Morzine is a beautiful place to be at any time of year.
So we hope that you agree what a beautiful and well appointed chalet this is, and that it is ideal for your holiday in Morzine. Now that you have have seen what's on offer, it's probably time to book it.