Services - Ski Hire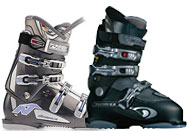 Our Morzine based ski hire partners, All Mountain Rental, offer an unbeatable quality service. By booking your equipment hire with them, you have the benefit of friendly knowledgeable staff, with years of solid experience. You can also be sure of a high standard of care and first class condition of equipment. Everything can be booked and arranged online, and your ski equipment will be brought to you at the chalet, coordinated with your arrival date and time.

Booking with All Mountain Rental means that no time is wasted. There is no queuing at busy times in ski hire shops waiting for your turn. There is no "making do" with whatever equipment the ski hire shop happen to have left. Everything is reserved for you in advance, and things are scheduled to suit you. This guarantees maximum time on the slopes, and minimum fuss and bother. Some people we have spoken to in the past have lost half a day of their holiday, and sometimes their first day's skiing, simply because they didn't have access to a service like this.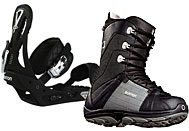 What makes this approach even better, is the fact that in addition to the great service and the quality kit, our guests will receive an automatic 10% discount on normal prices, which represents a significant saving. That saving certainly adds up quickly when there are more than just a few in your party. In order to ensure that you receive this discount, all you have to do is ensure that you choose "Alps Chalets" and "Chalet Jacinthe" as you book on-line. Simply look out for the section illustrated below :

All Mountain Rental bring in new skis and equipment every year, and even if you have your own skis or board, this can be a good way to try something different or something new. Are your skis a number of years old now, and you would like to try skiing on carvers? Want to try snowboarding for the first time? Want to get the kids started on skis or maybe even just hire a sledge? You can do it all here. What's more, the level of support and backup in the unlikely event that you have a problem on the hill is unparalleled, and is often only a phone call away. Have a look at this video introduction to All Mountain Rental.
Don't worry if you don't have all the details to hand for all of your party. You can come back to the All Mountain Rental site at any time to update your booking, add party members, or make changes. Starting your booking early helps to ensure availability, so what are you waiting for ? Book now !